J Creekside at Exton
360 Creamery Way, Exton, PA 19341
$1,520 - $3,035
1 - 3 Bed, 1 - 2 Bath
19 floorplans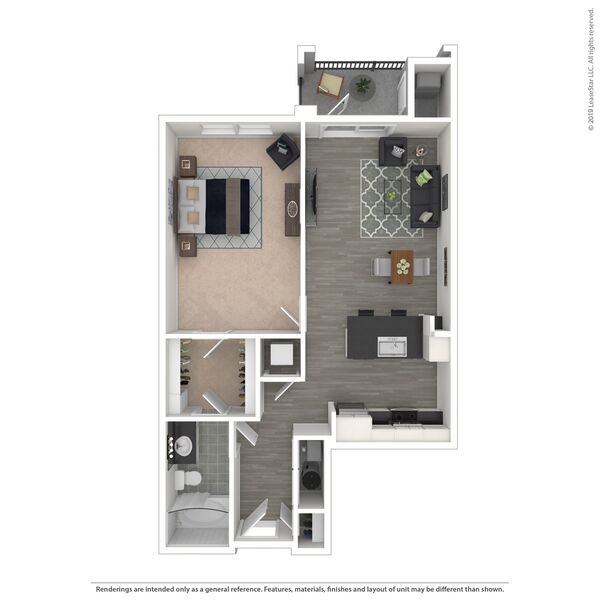 1 Bedroom/1 Bath - A03
1 bed
1 bath
754 sqft
$1,520
Floorplan: 1 Bedroom/1 Bath - A03
Apartment features
Private garage parking available
Stainless Steel Appliances
Spacious 1, 2 and 3 bedroom apartments with den options
Sleek plank flooring in kitchen and living spaces with choice of two finishes
Generous walk-in closets
Full-size washer/dryer included
Expansive bathrooms with optional glass-enclosed showers, double sinks, and linen closets
Dedicated wine fridge available
Balcony or patio
Airy 9` ceilings standard
Application Fee: Contact for details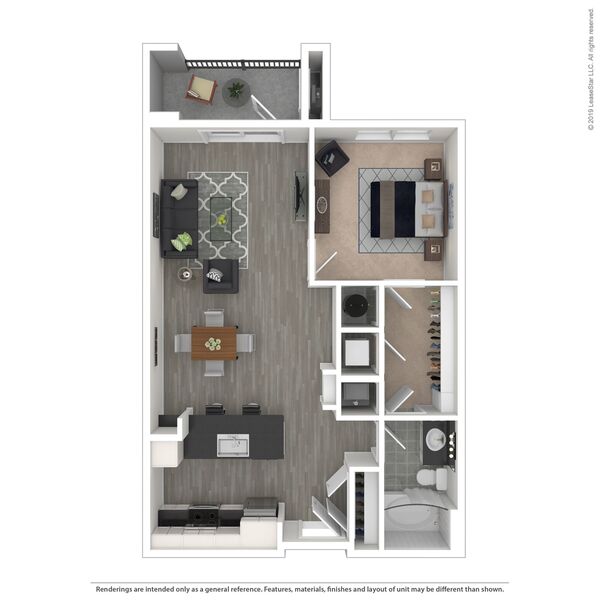 1 Bedroom/1 Bath - A01
1 bed
1 bath
664 sqft
$1,525 - $1,560
Floorplan: 1 Bedroom/1 Bath - A01
Apartment features
Private garage parking available
Stainless Steel Appliances
Spacious 1, 2 and 3 bedroom apartments with den options
Sleek plank flooring in kitchen and living spaces with choice of two finishes
Generous walk-in closets
Full-size washer/dryer included
Expansive bathrooms with optional glass-enclosed showers, double sinks, and linen closets
Dedicated wine fridge available
Balcony or patio
Airy 9` ceilings standard
Application Fee: Contact for details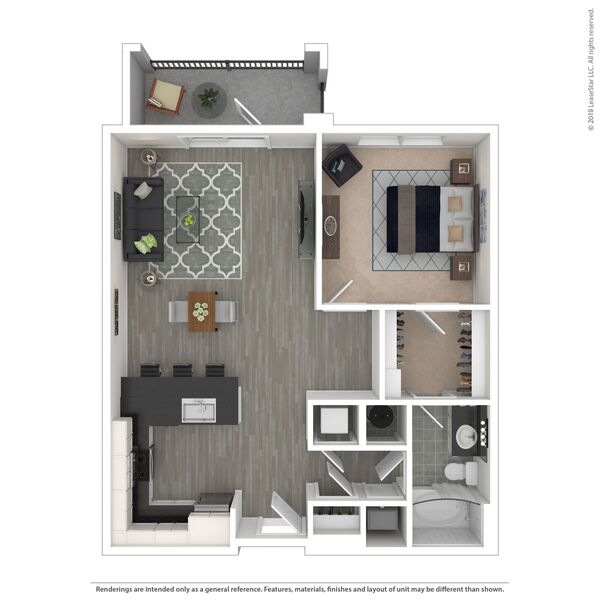 1 Bedroom/1 Bath - A07
1 bed
1 bath
753 sqft
$1,580 - $1,615
Floorplan: 1 Bedroom/1 Bath - A07
Apartment features
Private garage parking available
Stainless Steel Appliances
Spacious 1, 2 and 3 bedroom apartments with den options
Sleek plank flooring in kitchen and living spaces with choice of two finishes
Generous walk-in closets
Full-size washer/dryer included
Expansive bathrooms with optional glass-enclosed showers, double sinks, and linen closets
Dedicated wine fridge available
Balcony or patio
Airy 9` ceilings standard
Application Fee: Contact for details
1 Bedroom/1 Bath - A10-ANSI
1 bed
1 bath
822 sqft
$1,595
Floorplan: 1 Bedroom/1 Bath - A10-ANSI
Apartment features
Private garage parking available
Stainless Steel Appliances
Spacious 1, 2 and 3 bedroom apartments with den options
Sleek plank flooring in kitchen and living spaces with choice of two finishes
Generous walk-in closets
Full-size washer/dryer included
Expansive bathrooms with optional glass-enclosed showers, double sinks, and linen closets
Dedicated wine fridge available
Balcony or patio
Airy 9` ceilings standard
Application Fee: Contact for details
1 Bedroom/1 Bath - A05
1 bed
1 bath
781 sqft
$1,605
Floorplan: 1 Bedroom/1 Bath - A05
Apartment features
Private garage parking available
Stainless Steel Appliances
Spacious 1, 2 and 3 bedroom apartments with den options
Sleek plank flooring in kitchen and living spaces with choice of two finishes
Generous walk-in closets
Full-size washer/dryer included
Expansive bathrooms with optional glass-enclosed showers, double sinks, and linen closets
Dedicated wine fridge available
Balcony or patio
Airy 9` ceilings standard
Application Fee: Contact for details
1 Bedroom/1 Bath - A04
1 bed
1 bath
745 sqft
$1,605 - $1,640
Floorplan: 1 Bedroom/1 Bath - A04
Apartment features
Private garage parking available
Stainless Steel Appliances
Spacious 1, 2 and 3 bedroom apartments with den options
Sleek plank flooring in kitchen and living spaces with choice of two finishes
Generous walk-in closets
Full-size washer/dryer included
Expansive bathrooms with optional glass-enclosed showers, double sinks, and linen closets
Dedicated wine fridge available
Balcony or patio
Airy 9` ceilings standard
Application Fee: Contact for details
1 Bedroom/1 Bath - A09
1 bed
1 bath
760 sqft
$1,635
Floorplan: 1 Bedroom/1 Bath - A09
Apartment features
Private garage parking available
Stainless Steel Appliances
Spacious 1, 2 and 3 bedroom apartments with den options
Sleek plank flooring in kitchen and living spaces with choice of two finishes
Generous walk-in closets
Full-size washer/dryer included
Expansive bathrooms with optional glass-enclosed showers, double sinks, and linen closets
Dedicated wine fridge available
Balcony or patio
Airy 9` ceilings standard
Application Fee: Contact for details
1 Bedroom/1 Bath - A10
1 bed
1 bath
822 sqft
$1,640 - $1,675
Floorplan: 1 Bedroom/1 Bath - A10
Apartment features
Private garage parking available
Stainless Steel Appliances
Spacious 1, 2 and 3 bedroom apartments with den options
Sleek plank flooring in kitchen and living spaces with choice of two finishes
Generous walk-in closets
Full-size washer/dryer included
Expansive bathrooms with optional glass-enclosed showers, double sinks, and linen closets
Dedicated wine fridge available
Balcony or patio
Airy 9` ceilings standard
Application Fee: Contact for details
1 Bedroom/1 Bath - A08
1 bed
1 bath
759 sqft
$1,655
Floorplan: 1 Bedroom/1 Bath - A08
Apartment features
Private garage parking available
Stainless Steel Appliances
Spacious 1, 2 and 3 bedroom apartments with den options
Sleek plank flooring in kitchen and living spaces with choice of two finishes
Generous walk-in closets
Full-size washer/dryer included
Expansive bathrooms with optional glass-enclosed showers, double sinks, and linen closets
Dedicated wine fridge available
Balcony or patio
Airy 9` ceilings standard
Application Fee: Contact for details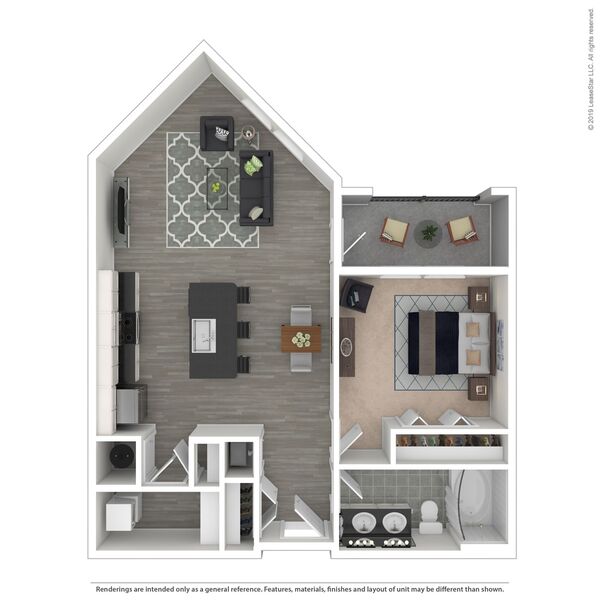 1 Bedroom/1 Bath - A06
1 bed
1 bath
789 sqft
$1,690 - $1,725
Floorplan: 1 Bedroom/1 Bath - A06
Apartment features
Private garage parking available
Stainless Steel Appliances
Spacious 1, 2 and 3 bedroom apartments with den options
Sleek plank flooring in kitchen and living spaces with choice of two finishes
Generous walk-in closets
Full-size washer/dryer included
Expansive bathrooms with optional glass-enclosed showers, double sinks, and linen closets
Dedicated wine fridge available
Balcony or patio
Airy 9` ceilings standard
Application Fee: Contact for details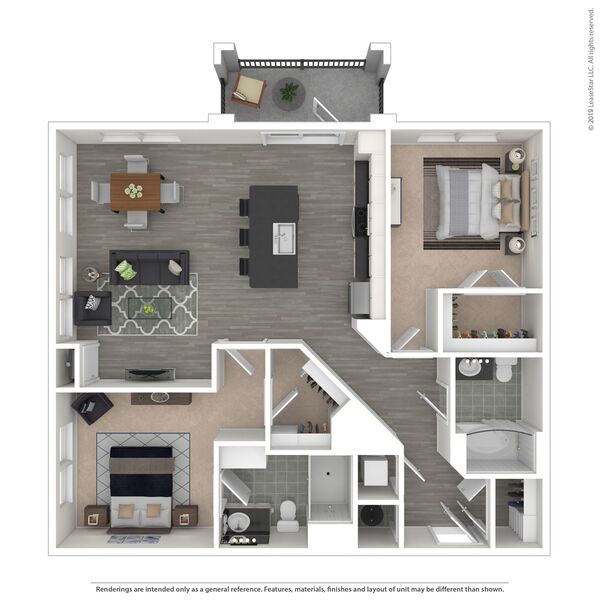 1 Bedroom/1 Bath with Den - B03
1 bed
1 bath
947 sqft
$1,690 - $1,725
Floorplan: 1 Bedroom/1 Bath with Den - B03
Apartment features
Private garage parking available
Stainless Steel Appliances
Spacious 1, 2 and 3 bedroom apartments with den options
Sleek plank flooring in kitchen and living spaces with choice of two finishes
Generous walk-in closets
Full-size washer/dryer included
Expansive bathrooms with optional glass-enclosed showers, double sinks, and linen closets
Dedicated wine fridge available
Balcony or patio
Airy 9` ceilings standard
Application Fee: Contact for details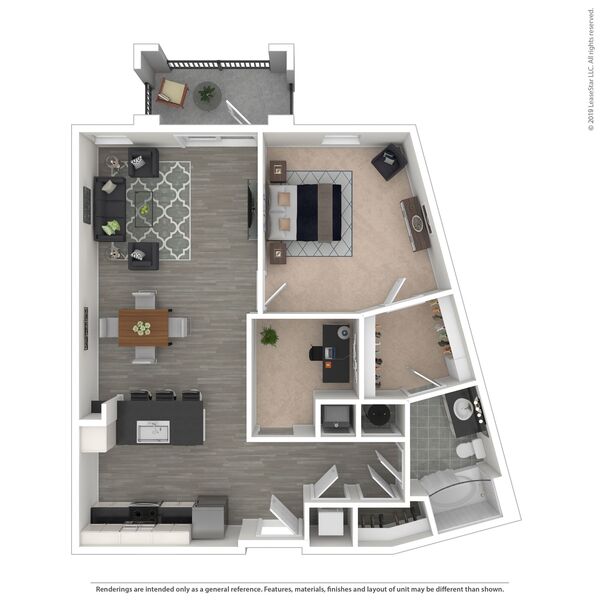 1 Bedroom/1 Bath with Den - B04
1 bed
1 bath
987 sqft
$1,695 - $1,780
Floorplan: 1 Bedroom/1 Bath with Den - B04
Apartment features
Private garage parking available
Stainless Steel Appliances
Spacious 1, 2 and 3 bedroom apartments with den options
Sleek plank flooring in kitchen and living spaces with choice of two finishes
Generous walk-in closets
Full-size washer/dryer included
Expansive bathrooms with optional glass-enclosed showers, double sinks, and linen closets
Dedicated wine fridge available
Balcony or patio
Airy 9` ceilings standard
Application Fee: Contact for details
1 Bedroom/1 Bath with Den - B02
1 bed
1 bath
912 sqft
$1,700 - $1,735
Floorplan: 1 Bedroom/1 Bath with Den - B02
Apartment features
Private garage parking available
Stainless Steel Appliances
Spacious 1, 2 and 3 bedroom apartments with den options
Sleek plank flooring in kitchen and living spaces with choice of two finishes
Generous walk-in closets
Full-size washer/dryer included
Expansive bathrooms with optional glass-enclosed showers, double sinks, and linen closets
Dedicated wine fridge available
Balcony or patio
Airy 9` ceilings standard
Application Fee: Contact for details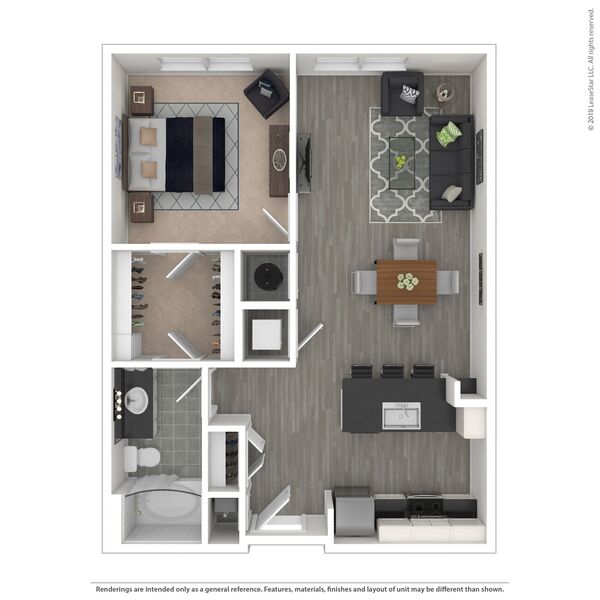 1 Bedroom/1 Bath - A02
1 bed
1 bath
824 sqft
$1,705
Floorplan: 1 Bedroom/1 Bath - A02
Apartment features
Private garage parking available
Stainless Steel Appliances
Spacious 1, 2 and 3 bedroom apartments with den options
Sleek plank flooring in kitchen and living spaces with choice of two finishes
Generous walk-in closets
Full-size washer/dryer included
Expansive bathrooms with optional glass-enclosed showers, double sinks, and linen closets
Dedicated wine fridge available
Balcony or patio
Airy 9` ceilings standard
Application Fee: Contact for details
1 Bedroom/1 Bath - A11
1 bed
1 bath
904 sqft
$1,780
Floorplan: 1 Bedroom/1 Bath - A11
Apartment features
Private garage parking available
Stainless Steel Appliances
Spacious 1, 2 and 3 bedroom apartments with den options
Sleek plank flooring in kitchen and living spaces with choice of two finishes
Generous walk-in closets
Full-size washer/dryer included
Expansive bathrooms with optional glass-enclosed showers, double sinks, and linen closets
Dedicated wine fridge available
Balcony or patio
Airy 9` ceilings standard
Application Fee: Contact for details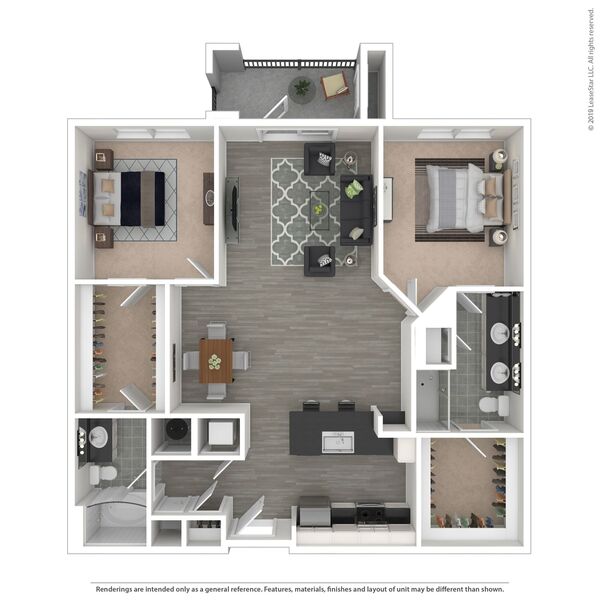 1 Bedroom/1 Bath with Den - B01
1 bed
1 bath
910 sqft
$1,825 - $1,860
Floorplan: 1 Bedroom/1 Bath with Den - B01
Apartment features
Private garage parking available
Stainless Steel Appliances
Spacious 1, 2 and 3 bedroom apartments with den options
Sleek plank flooring in kitchen and living spaces with choice of two finishes
Generous walk-in closets
Full-size washer/dryer included
Expansive bathrooms with optional glass-enclosed showers, double sinks, and linen closets
Dedicated wine fridge available
Balcony or patio
Airy 9` ceilings standard
Application Fee: Contact for details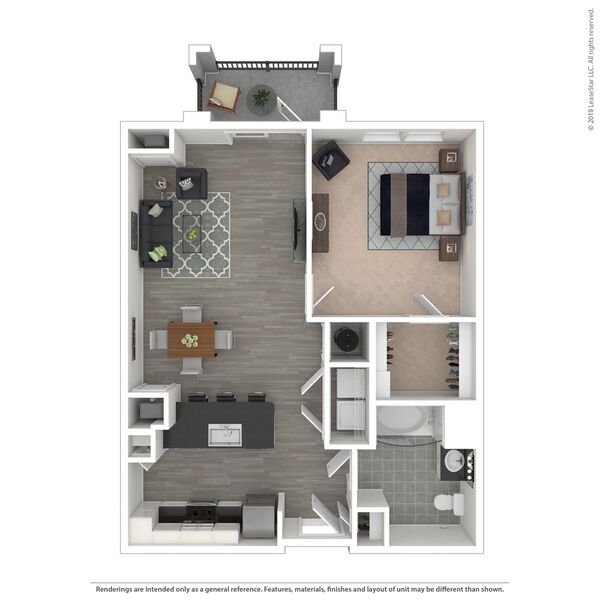 1 Bedroom/1 Bath with Den - B05
1 bed
1 bath
991 sqft
$1,895
Floorplan: 1 Bedroom/1 Bath with Den - B05
Apartment features
Private garage parking available
Stainless Steel Appliances
Spacious 1, 2 and 3 bedroom apartments with den options
Sleek plank flooring in kitchen and living spaces with choice of two finishes
Generous walk-in closets
Full-size washer/dryer included
Expansive bathrooms with optional glass-enclosed showers, double sinks, and linen closets
Dedicated wine fridge available
Balcony or patio
Airy 9` ceilings standard
Application Fee: Contact for details
1 Bedroom/1 Bath with Loft - A10 Loft
1 bed
1 bath
972 sqft
$2,015
Floorplan: 1 Bedroom/1 Bath with Loft - A10 Loft
Apartment features
Private garage parking available
Stainless Steel Appliances
Spacious 1, 2 and 3 bedroom apartments with den options
Sleek plank flooring in kitchen and living spaces with choice of two finishes
Generous walk-in closets
Full-size washer/dryer included
Expansive bathrooms with optional glass-enclosed showers, double sinks, and linen closets
Dedicated wine fridge available
Balcony or patio
Airy 9` ceilings standard
2-level lofts with stunning 18` vaulted ceilings
Application Fee: Contact for details
1 Bedroom/1 Bath with Loft - A12 Loft
1 bed
1 bath
1117 sqft
$2,105
Floorplan: 1 Bedroom/1 Bath with Loft - A12 Loft
Apartment features
Private garage parking available
Stainless Steel Appliances
Spacious 1, 2 and 3 bedroom apartments with den options
Sleek plank flooring in kitchen and living spaces with choice of two finishes
Generous walk-in closets
Full-size washer/dryer included
Expansive bathrooms with optional glass-enclosed showers, double sinks, and linen closets
Dedicated wine fridge available
Balcony or patio
Airy 9` ceilings standard
2-level lofts with stunning 18` vaulted ceilings
Application Fee: Contact for details
17 floorplans
5 floorplans
Property Description
Why Live Here?
J Creekside is an inspired expression of apartment living, where life is all about balance. Whether that's work and play, natural and crafted, or active endeavors and relaxing diversions, J Creekside's inviting spaces mean you can enjoy every moment. Our thoughtfully designed apartments and alluring amenities provide a desirable symmetry to living. Add to that, lush outdoor spaces and an array of neighborhood conveniences to fit your lifestyle. That's how we bring balanced living to life in a way that's sure to complements yours.WE ARE OPEN & HERE FOR YOU! SCHEDULE A CONTACT-FREE SELF-GUIDED TOUR, VIRTUAL TOUR, OR IN PERSON TOUR (BY APPOINTMENT ONLY).
Amenities
Resort Style pool with sun-shelf with immersed chaises, and sunken dry seating lounge area
Screening room with 90" screen, cinematic sound, and plush lounge chairs
Outdoor living room with pergola, fireplace, and grilling stations
Cyber Lounge
Resident storage
Lounge featuring an entertainment kitchen and stunning fireplace
Conference Room
Game room with wet bar, billiards, poker table, pinball, and arcade games
Two-level playroom with spiral staircase, art stations, chalk paint walls, and Lego wall
24/7 Amazon Hub package system
Fitness Center
WiFi throughout amenity areas
Path to the scenic wooded Chester Valley Trail alongside Valley Creek
Dedicated group fitness studio
High Speed Internet Available
Garage parking available
Elevators
On-Site Maintenance
On-Site Management
Smoke-free community
Dog park with obstacle course
Bike room
Pet Policy
Pets Allowed: Cat, Dog
Max Number of Pets: 2
Max Weight of Pets: 80lb
Pet Care: Not Available
Pets Deposit Min/Max: $0
Pet Monthly Rent Min/Max: $35
One Time Fee: $350
Up to two pets permitted. Breed restrictions may apply. Pet friendly Exton PA apartments with large dogs welcome.
Loading Properties