Glenbrook
10100 Mary Avenue, Cupertino, CA 95014
$2,245 - $3,895
1 - 3 Bed, 1 - 2.5 Bath
3 floorplans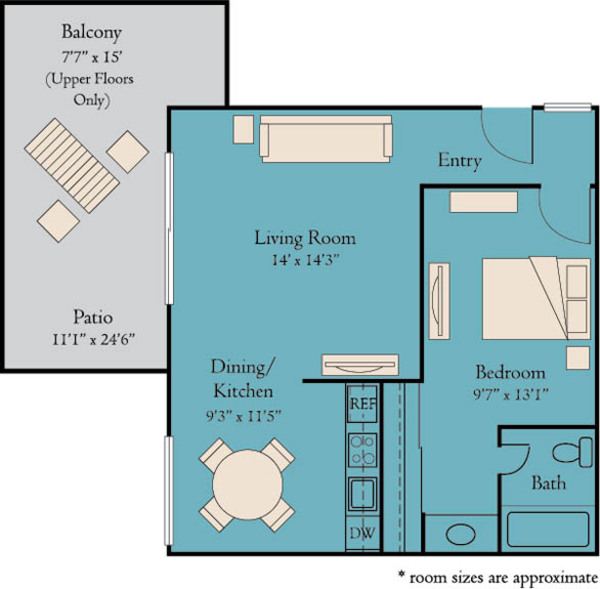 Junior 1 Bed 1 Bath (A)
1 bed / 1 bath
600 sqft
From $2,245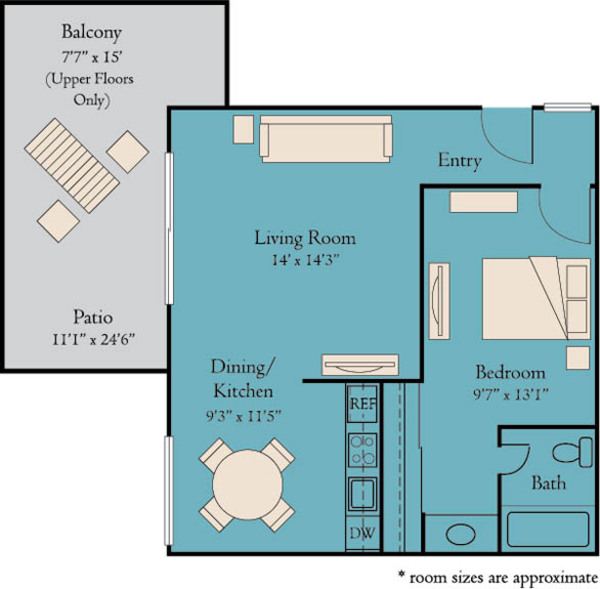 Junior 1 Bed 1 Bath (A)
Apartment features
Air Conditioning
Built in Microwave
Decorator Ceiling Fan
Dual Pane Windows
Frost Free GE Refrigerator
Garage Available
Garden Views
Cable/Satellite Available
Granite Kitchen & Bathroom Countertops
Large Patio/Balcony
Latest GE Appliances
Multi-Cycle Dishwasher
On-Site Guest Rooms
Oversized Windows & Doors
Reserved Covered Parking
Walk in Closets
White European-Style Cabinets
Wood Floors
Application Fee: Contact for details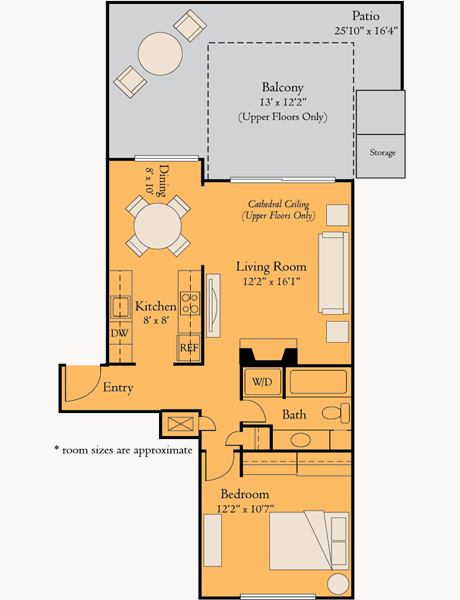 1 Bed 1 Bath (B)
1 bed / 1 bath
700 sqft
From $2,495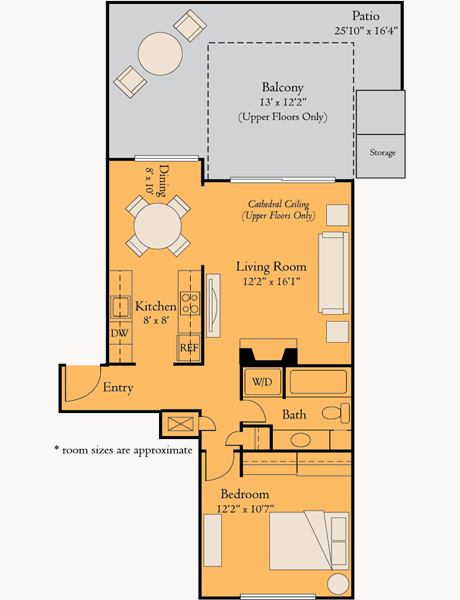 1 Bed 1 Bath (B)
Apartment features
Air Conditioning
17 Ft. High Ceilings (Upstairs Plans)
Decorator Ceiling Fan
Entry Coat Closets
Fireplaces with Mantels
Frost Free GE Refrigerator
Garage Available
Garden Views
Cable/Satellite Available
Granite Kitchen & Bathroom Countertops
Large Patio/Balcony
Latest GE Appliances
Multi-Cycle Dishwasher
On-Site Guest Rooms
Oversized Windows & Doors
Plush Carpeting
Programmable Thermostats
Reserved Covered Parking
Walk in Closets
White European-Style Cabinets
Washer/Dryer in Unit
Wood Floors
Application Fee: Contact for details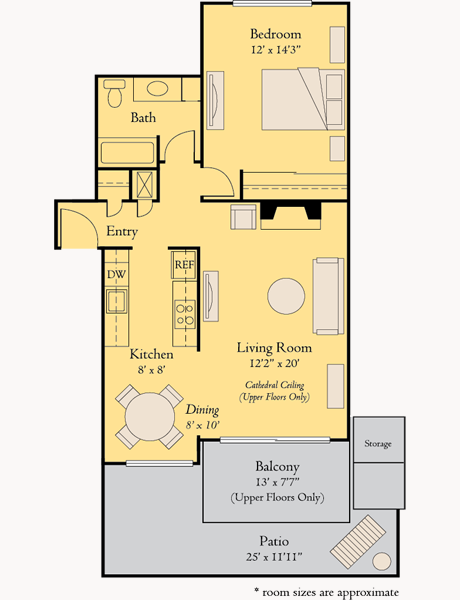 1 Bed 1 Bath (C)
1 bed / 1 bath
790 sqft
From $2,595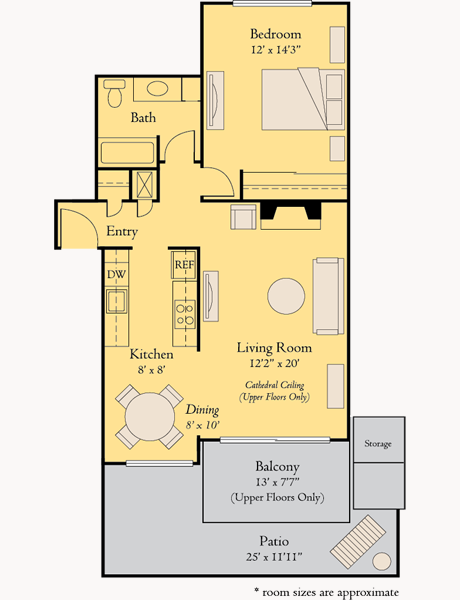 1 Bed 1 Bath (C)
Apartment features
Air Conditioning
17 Ft. High Ceilings (Upstairs Plans)
Decorator Ceiling Fan
Entry Coat Closets
Fireplaces with Mantels
Frost Free GE Refrigerator
Garage Available
Cable/Satellite Available
Garden Views
Granite Kitchen & Bathroom Countertops
Large Patio/Balcony
Latest GE Appliances
Multi-Cycle Dishwasher
On-Site Guest Rooms
Oversized Windows & Doors
Plush Carpeting
Programmable Thermostats
Reserved Covered Parking
Walk in Closets
White European-Style Cabinets
Washer/Dryer in Unit
Wood Floors
Application Fee: Contact for details
6 floorplans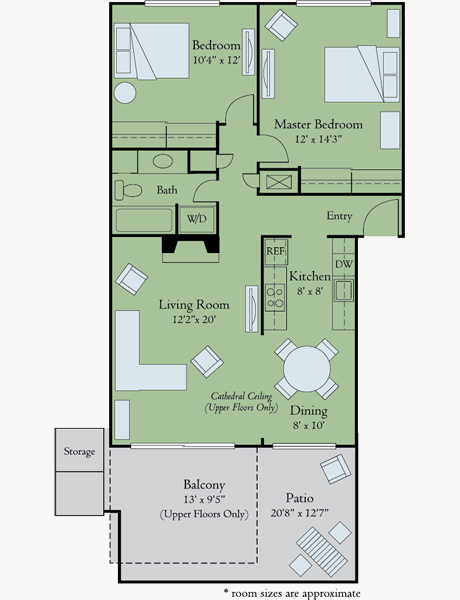 2 Bed 1 Bath (D)
2 bed / 1 bath
945 sqft
From $3,345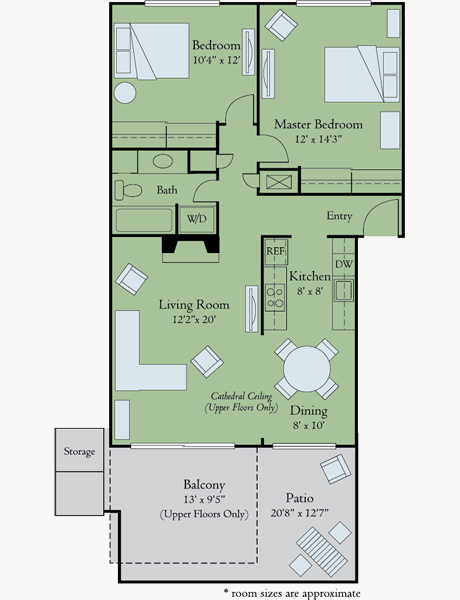 2 Bed 1 Bath (D)
Apartment features
Air Conditioning
17 Ft. High Ceilings (Upstairs Plans)
Decorator Ceiling Fan
Entry Coat Closets
Fireplaces with Mantels
Frost Free GE Refrigerator
Garage Available
Cable/Satellite Available
Garden Views
Granite Kitchen & Bathroom Countertops
Large Patio/Balcony
Latest GE Appliances
Multi-Cycle Dishwasher
On-Site Guest Rooms
Oversized Windows & Doors
Plush Carpeting
Programmable Thermostats
Reserved Covered Parking
White European-Style Cabinets
Washer/Dryer in Unit
Wood Floors
Application Fee: Contact for details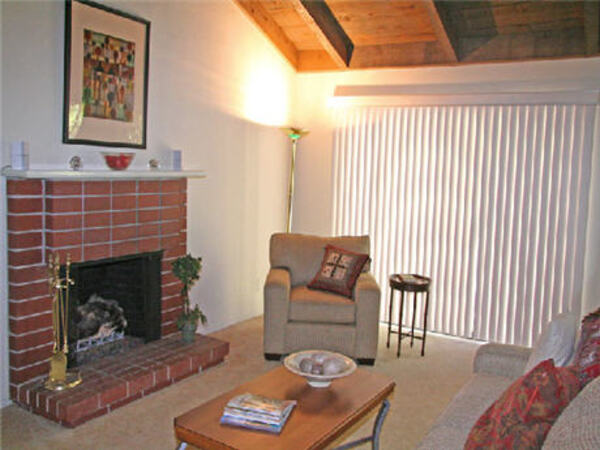 2 Bed 2 Bath (E1)
2 bed / 2 bath
1080 sqft
From $3,395
2 Bed 2 Bath (E1)
Apartment features
Air Conditioning
17 Ft. High Ceilings (Upstairs Plans)
Decorator Ceiling Fan
Entry Coat Closets
Fireplaces with Mantels
Frost Free GE Refrigerator
Garage Available
Cable/Satellite Available
Garden Views
Granite Kitchen & Bathroom Countertops
Large Patio/Balcony
Latest GE Appliances
Multi-Cycle Dishwasher
On-Site Guest Rooms
Oversized Windows & Doors
Plush Carpeting
Programmable Thermostats
Reserved Covered Parking
White European-Style Cabinets
Washer/Dryer in Unit
Wood Floors
Application Fee: Contact for details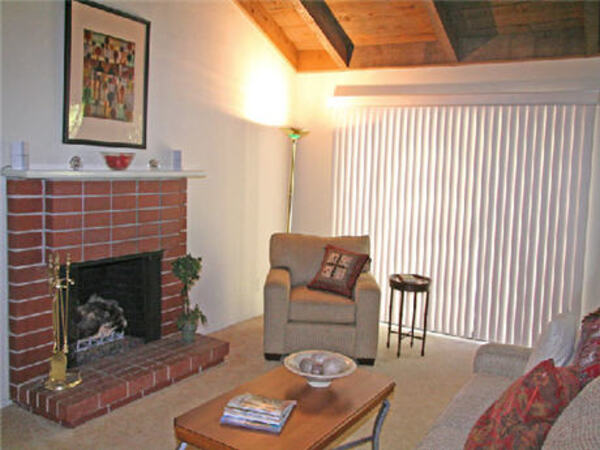 2 Bed 2 Bath (E2)
2 bed / 2 bath
1110 sqft
From $3,395
2 Bed 2 Bath (E2)
Apartment features
Air Conditioning
17 Ft. High Ceilings (Upstairs Plans)
Decorator Ceiling Fan
Entry Coat Closets
Fireplaces with Mantels
Frost Free GE Refrigerator
Garage Available
Cable/Satellite Available
Garden Views
Granite Kitchen & Bathroom Countertops
Large Patio/Balcony
Latest GE Appliances
Multi-Cycle Dishwasher
On-Site Guest Rooms
Oversized Windows & Doors
Plush Carpeting
Programmable Thermostats
Reserved Covered Parking
White European-Style Cabinets
Washer/Dryer in Unit
Wood Floors
Application Fee: Contact for details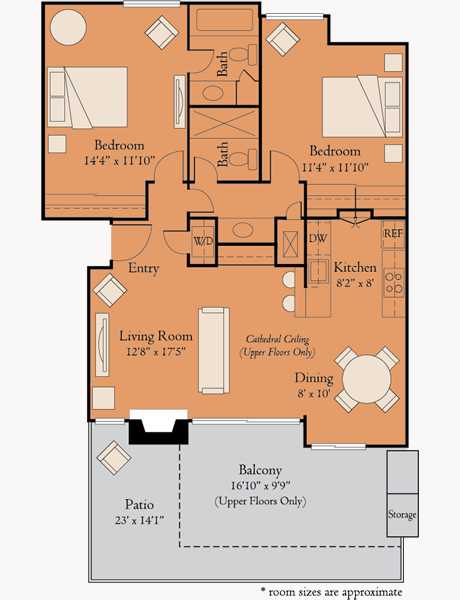 2 Bed 2 Bath (G)
2 bed / 2 bath
990 sqft
From $3,495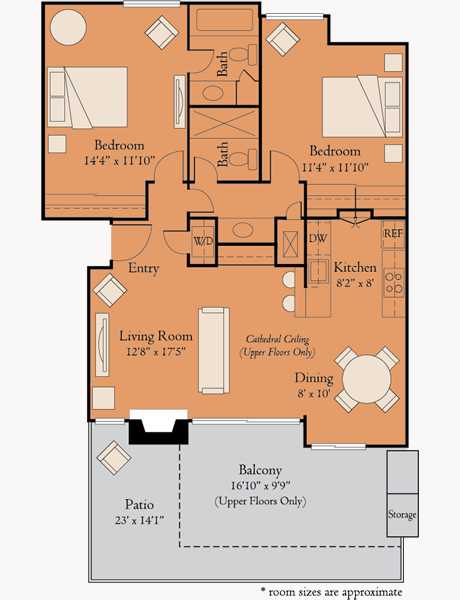 2 Bed 2 Bath (G)
Apartment features
Air Conditioning
17 Ft. High Ceilings (Upstairs Plans)
Decorator Ceiling Fan
Entry Coat Closets
Fireplaces with Mantels
Frost Free GE Refrigerator
Garage Available
Cable/Satellite Available
Garden Views
Granite Kitchen & Bathroom Countertops
Large Patio/Balcony
Latest GE Appliances
Multi-Cycle Dishwasher
On-Site Guest Rooms
Oversized Windows & Doors
Plush Carpeting
Programmable Thermostats
Reserved Covered Parking
White European-Style Cabinets
Washer/Dryer in Unit
Wood Floors
Application Fee: Contact for details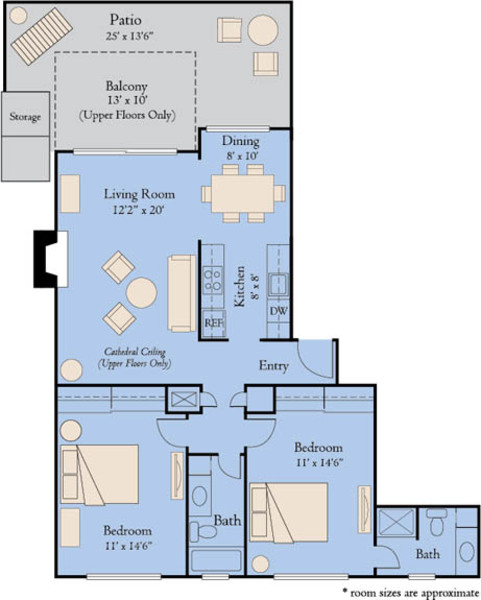 2 Bed 2 Bath (E)
2 bed / 2 bath
1065 sqft
From $3,595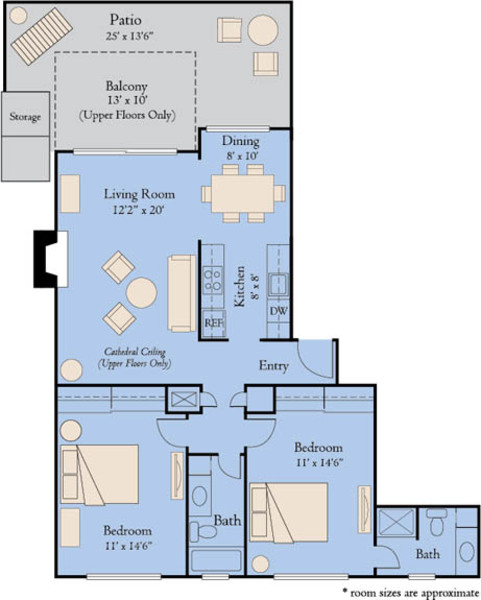 2 Bed 2 Bath (E)
Apartment features
Air Conditioning
17 Ft. High Ceilings (Upstairs Plans)
Decorator Ceiling Fan
Entry Coat Closets
Fireplaces with Mantels
Frost Free GE Refrigerator
Garage Available
Cable/Satellite Available
Garden Views
Granite Kitchen & Bathroom Countertops
Large Patio/Balcony
Latest GE Appliances
Multi-Cycle Dishwasher
On-Site Guest Rooms
Oversized Windows & Doors
Plush Carpeting
Programmable Thermostats
Reserved Covered Parking
White European-Style Cabinets
Washer/Dryer in Unit
Wood Floors
Application Fee: Contact for details
2 Bed 2.5 Bath
2 bed / 2.5 bath
1335 sqft
From $3,895
2 Bed 2.5 Bath
Apartment features
Air Conditioning
Large Patio
17 Ft. High Ceilings (Upstairs Plans)
Decorator Ceiling Fan
Fireplaces with Mantels
Frost Free GE Refrigerator
Garage Available
Cable/Satellite Available
Garden Views
Granite Kitchen & Bathroom Countertops
Latest GE Appliances
Multi-Cycle Dishwasher
On-Site Guest Rooms
Oversized Windows & Doors
Plush Carpeting
Programmable Thermostats
Reserved Covered Parking
White European-Style Cabinets
Washer/Dryer in Unit
Wood Floors
Application Fee: Contact for details
1 floorplan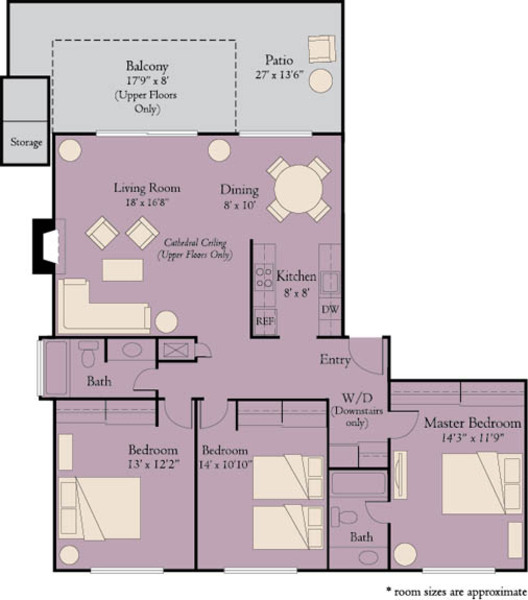 3 Bed 2 Bath (F)
3 bed / 2 bath
1340 sqft
From $3,845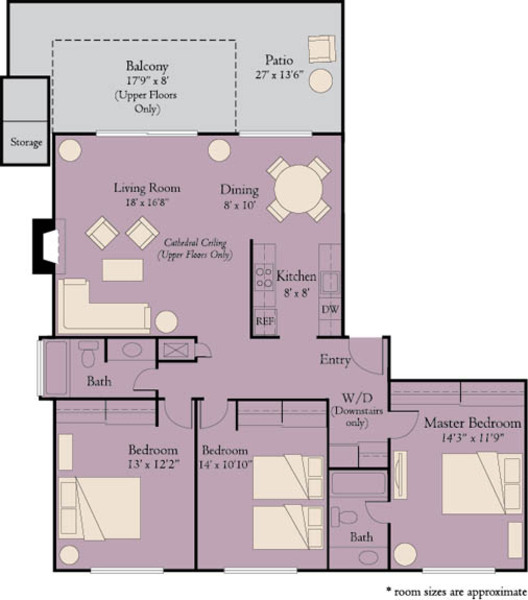 3 Bed 2 Bath (F)
Apartment features
Air Conditioning
17 Ft. High Ceilings (Upstairs Plans)
Decorator Ceiling Fan
Entry Coat Closets
Fireplaces with Mantels
Frost Free GE Refrigerator
Garage Available
Cable/Satellite Available
Garden Views
Granite Kitchen & Bathroom Countertops
Large Patio/Balcony
Latest GE Appliances
Multi-Cycle Dishwasher
On-Site Guest Rooms
Oversized Windows & Doors
Plush Carpeting
Programmable Thermostats
Reserved Covered Parking
White European-Style Cabinets
Washer/Dryer in Unit
Wood Floors
Application Fee: Contact for details
Property Description
Why Live Here?
Glenbrook Apartments apartment community, winner of three prestigious national awards for its unique design of small clusters of spacious 1, 2, and 3 bedroom apartment homes nestled in an impressive 32 acres of rolling lawns, meandering streams, and beautiful trees. Tranquility, comfort, and style make living in these luxurious North Cupertino apartments a one-of-a-kind experience. With plenty of green-space between our apartment buildings, you'll truly enjoy your large, private patio or balcony in the great outdoors. Our impressive resort-style amenities include two lap pools, five large courtyard pools, two spas and saunas, well-equipped cardio fitness center, Pilates and yoga studio, tennis courts, volleyball court, children's library, and putting green.

Conveniently located just one block from The Oaks Shopping Center, cafes, and the Flint Center for Performing Arts, the Glenbrook Apartments complex is in the highly sought-after Cupertino School District and offers convenient, easy freeway access to Highways 85, 280, and 101. Next door, 28-acre Cupertino Memorial Park is filled with a variety of activities and year-round special events. Glenbrook Apartments - a place to do all the active things you love to do, or a place to just unwind and relax. A great place to call home.

Please call for an appointment today!
Amenities
On-site Management
Transportation
High Speed Internet Available
2 lap & 5 large courtyard pools w/ Wifi
Two relaxing spas and saunas
32 acres of award winning grounds
State-of-the-Art Fitness Center
Freemotion® cable cross trainer
Cybex® Strength Center
Pilates & Yoga studio
Two tennis courts
Billiards room
Sand volleyball court
Nine-hole putting green
Indoor Driving Range
Creekside Hub Cowork Space
Children's library
Coffee Xpress with Free Starbucks Coffee
Laundry(WaveRider)Text & monitor Online
Reserved Parking
Creekside Patio with WiFi
Waterfall Courtyard with WiFi
Parking
Six on-site guest rooms
The Meadow-an all weather playfield
bike lockers available
24-hour emergency on-call maintenance
Pet Policy
Pets Allowed: Unknown
Max Number of Pets: 0
Max Weight of Pets: N/A
Pet Care: Not Available
Pets Deposit Min/Max: $0
Pet Monthly Rent Min/Max: $0
One Time Fee: $0
Building Information
Units: 517
Loading Properties