Arbors of Las Colinas
1000 SAN JACINTO DR, Irving, TX 75063
$1,099 - $2,348
1 - 3 Bed, 1 - 2 Bath
10 floorplans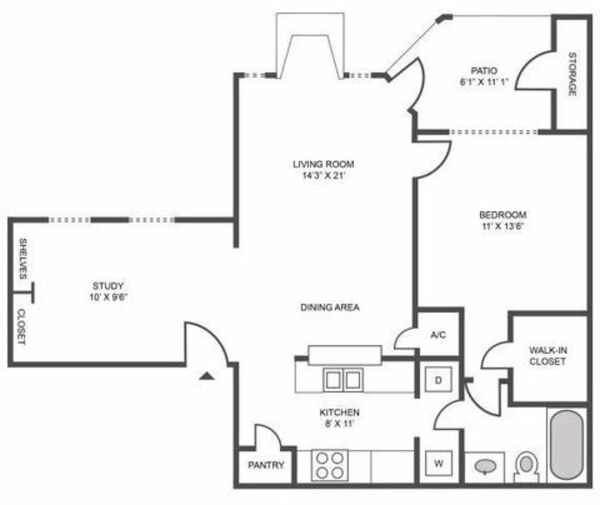 Magnolia
1 bed
1 bath
818 sqft
$1,099 - $1,319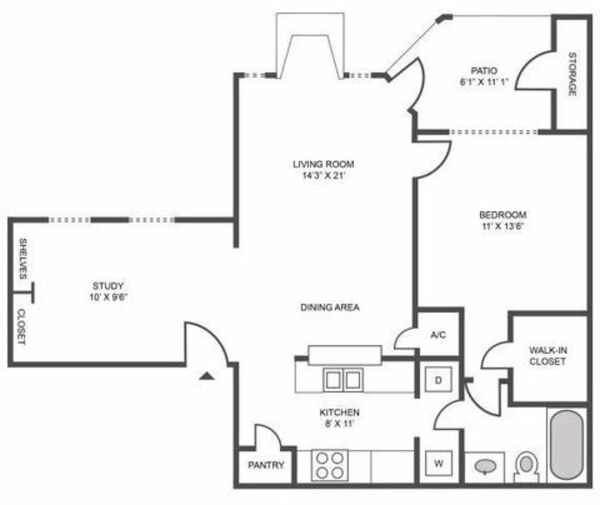 Floorplan: Magnolia
Apartment features
Fireplaces*
Ceiling Fans
Walk-In Closets
Vaulted Ceilings*
Patios or Balconies*
Kitchen Backsplashes*
Contemporary Cabinetry*
Wired for Intrusion Alarms
Renovated Apartments Homes*
Stainless Steel or Black Appliances*
Full Sized Washer and Dryer Connections
USB Outlets in Living Room and Bedrooms*
Exclusive High-Speed Internet and Cable Amenity
*In Select Homes
Application Fee: Contact for details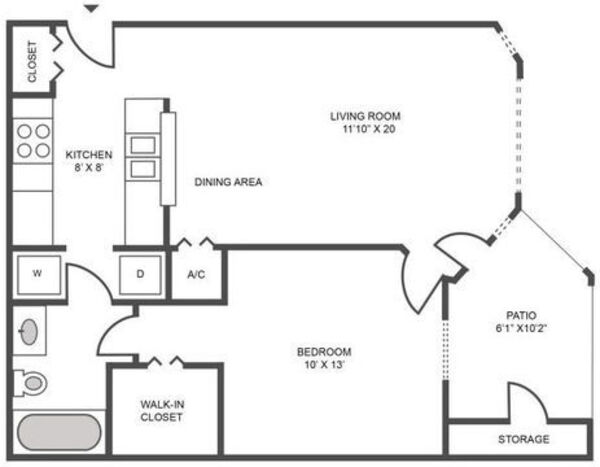 Birch
1 bed
1 bath
642 sqft
$1,142 - $1,269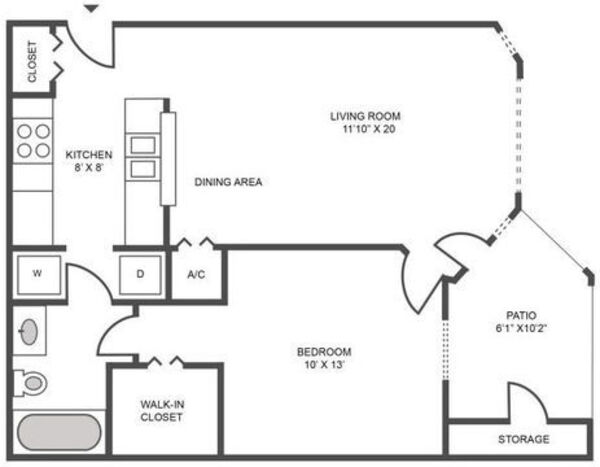 Floorplan: Birch
Apartment features
Fireplaces*
Ceiling Fans
Walk-In Closets
Vaulted Ceilings*
Patios or Balconies*
Kitchen Backsplashes*
Contemporary Cabinetry*
Wired for Intrusion Alarms
Renovated Apartments Homes*
Stainless Steel or Black Appliances*
Full Sized Washer and Dryer Connections
USB Outlets in Living Room and Bedrooms*
Exclusive High-Speed Internet and Cable Amenity
*In Select Homes
Application Fee: Contact for details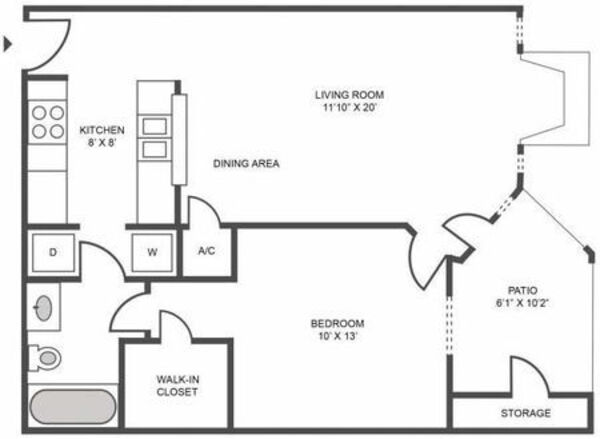 Mimosa
1 bed
1 bath
640 sqft
$1,224 - $1,316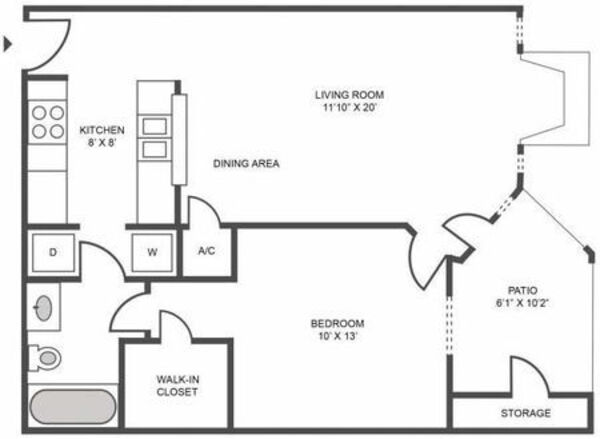 Floorplan: Mimosa
Apartment features
Fireplaces*
Ceiling Fans
Walk-In Closets
Vaulted Ceilings*
Patios or Balconies*
Kitchen Backsplashes*
Contemporary Cabinetry*
Wired for Intrusion Alarms
Renovated Apartments Homes*
Stainless Steel or Black Appliances*
Full Sized Washer and Dryer Connections
USB Outlets in Living Room and Bedrooms*
Exclusive High-Speed Internet and Cable Amenity
*In Select Homes
Application Fee: Contact for details
Birch Renovated
1 bed
1 bath
642 sqft
$1,234 - $1,342
Floorplan: Birch Renovated
Application Fee: Contact for details
Mimosa Renovated
1 bed
1 bath
640 sqft
$1,252 - $1,347
Floorplan: Mimosa Renovated
Application Fee: Contact for details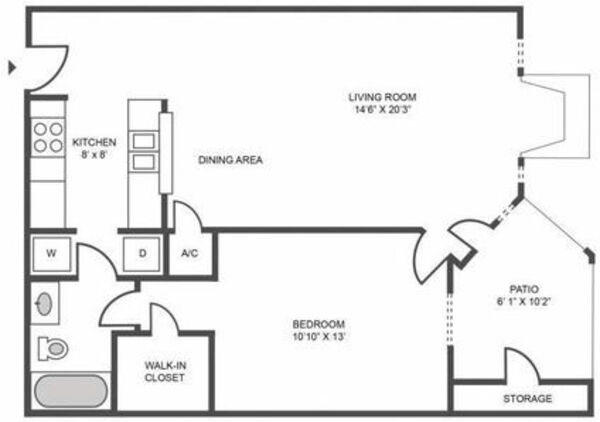 Cedar
1 bed
1 bath
689 sqft
$1,264 - $1,309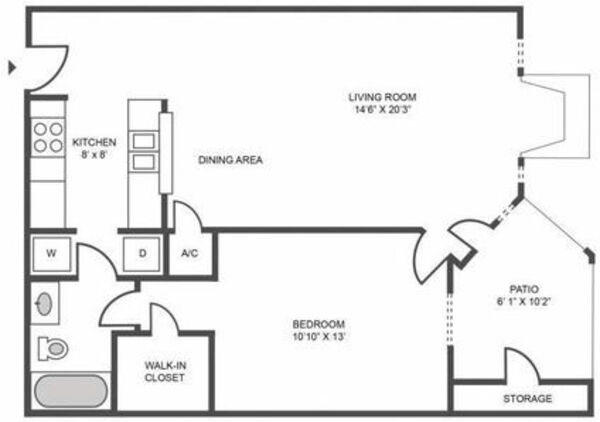 Floorplan: Cedar
Apartment features
Fireplaces*
Ceiling Fans
Walk-In Closets
Vaulted Ceilings*
Patios or Balconies*
Kitchen Backsplashes*
Contemporary Cabinetry*
Wired for Intrusion Alarms
Renovated Apartments Homes*
Stainless Steel or Black Appliances*
Full Sized Washer and Dryer Connections
USB Outlets in Living Room and Bedrooms*
Exclusive High-Speed Internet and Cable Amenity
*In Select Homes
Application Fee: Contact for details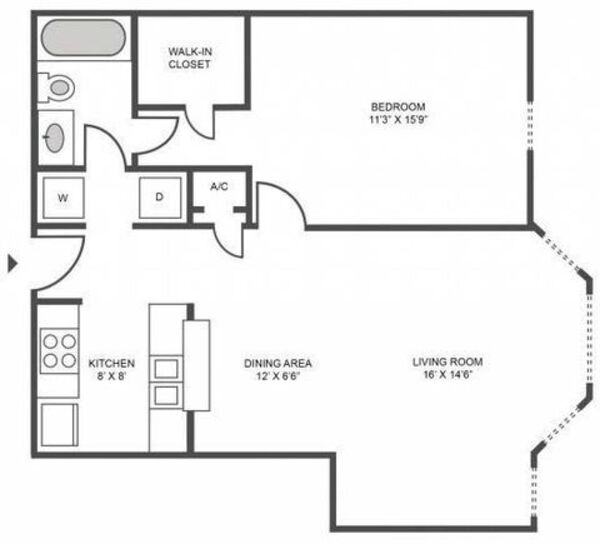 Cypress
1 bed
1 bath
719 sqft
$1,306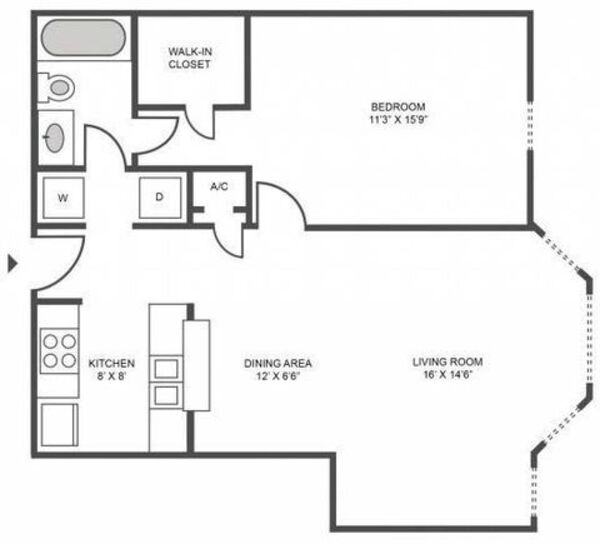 Floorplan: Cypress
Apartment features
Fireplaces*
Ceiling Fans
Walk-In Closets
Vaulted Ceilings*
Patios or Balconies*
Kitchen Backsplashes*
Contemporary Cabinetry*
Wired for Intrusion Alarms
Renovated Apartments Homes*
Stainless Steel or Black Appliances*
Full Sized Washer and Dryer Connections
USB Outlets in Living Room and Bedrooms*
Exclusive High-Speed Internet and Cable Amenity
*In Select Homes
Application Fee: Contact for details
Magnolia Renovated
1 bed
1 bath
818 sqft
$1,309 - $1,409
Floorplan: Magnolia Renovated
Application Fee: Contact for details
Cedar Renovated
1 bed
1 bath
689 sqft
$1,324 - $1,344
Floorplan: Cedar Renovated
Application Fee: Contact for details
Cypress Renovated
1 bed
1 bath
719 sqft
$1,359 - $1,403
Floorplan: Cypress Renovated
Application Fee: Contact for details
6 floorplans
Willow
2 bed
2 bath
1139 sqft
$1,354 - $1,654
Floorplan: Willow
Apartment features
Fireplaces*
Ceiling Fans
Walk-In Closets
Vaulted Ceilings*
Patios or Balconies*
Kitchen Backsplashes*
Contemporary Cabinetry*
Wired for Intrusion Alarms
Renovated Apartments Homes*
Stainless Steel or Black Appliances*
Full Sized Washer and Dryer Connections
USB Outlets in Living Room and Bedrooms*
Exclusive High-Speed Internet and Cable Amenity
*In Select Homes
Application Fee: Contact for details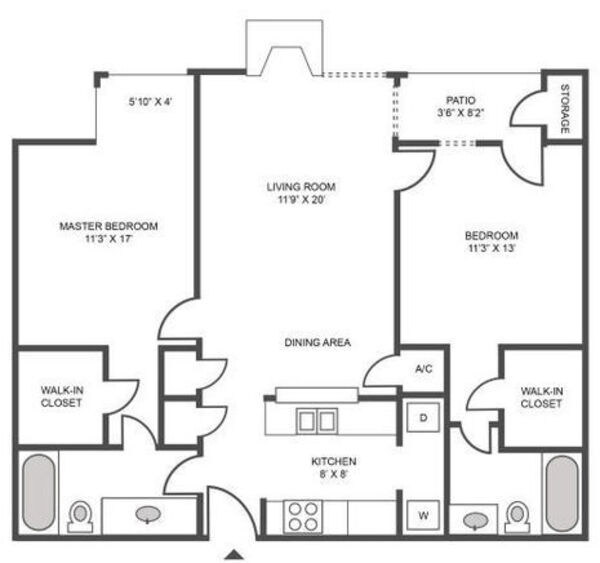 Oak
2 bed
2 bath
959 sqft
$1,369 - $1,629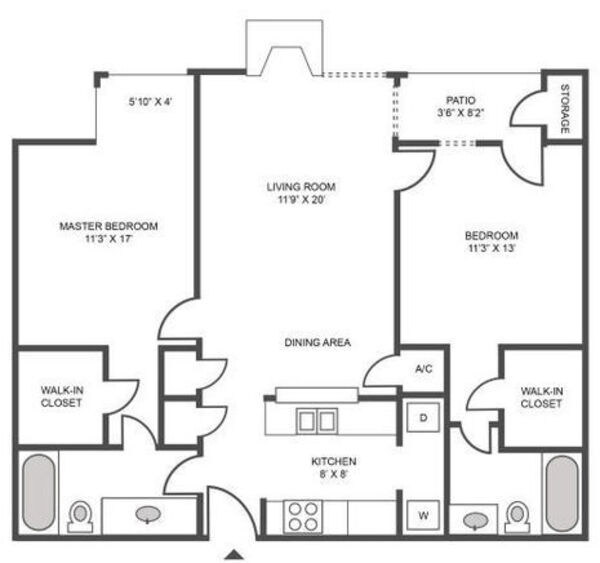 Floorplan: Oak
Apartment features
Fireplaces*
Ceiling Fans
Walk-In Closets
Vaulted Ceilings*
Patios or Balconies*
Kitchen Backsplashes*
Contemporary Cabinetry*
Wired for Intrusion Alarms
Renovated Apartments Homes*
Stainless Steel or Black Appliances*
Full Sized Washer and Dryer Connections
USB Outlets in Living Room and Bedrooms*
Exclusive High-Speed Internet and Cable Amenity
*In Select Homes
Application Fee: Contact for details
Oak Renovated
2 bed
2 bath
959 sqft
$1,639
Floorplan: Oak Renovated
Application Fee: Contact for details
Willow Renovated
2 bed
2 bath
1139 sqft
$1,639
Floorplan: Willow Renovated
Application Fee: Contact for details
Maple
2 bed
2 bath
930 sqft
$1,704 - $1,814
Floorplan: Maple
Apartment features
Fireplaces*
Ceiling Fans
Walk-In Closets
Vaulted Ceilings*
Patios or Balconies*
Kitchen Backsplashes*
Contemporary Cabinetry*
Wired for Intrusion Alarms
Renovated Apartments Homes*
Stainless Steel or Black Appliances*
Full Sized Washer and Dryer Connections
USB Outlets in Living Room and Bedrooms*
Exclusive High-Speed Internet and Cable Amenity
*In Select Homes
Application Fee: Contact for details
Maple Renovated
2 bed
2 bath
930 sqft
$1,764 - $1,823
Floorplan: Maple Renovated
Application Fee: Contact for details
2 floorplans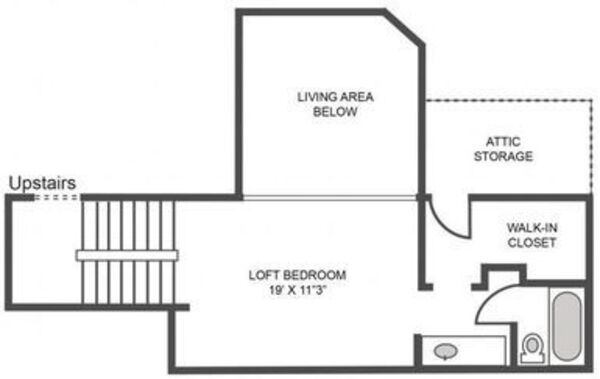 Cottonwood
3 bed
2 bath
1405 sqft
$2,039 - $2,324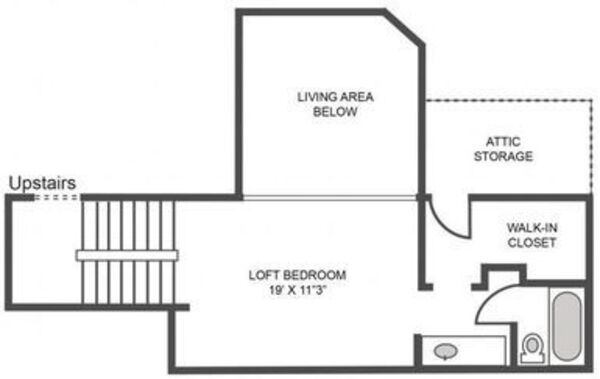 Floorplan: Cottonwood
Apartment features
Fireplaces*
Ceiling Fans
Walk-In Closets
Vaulted Ceilings*
Patios or Balconies*
Kitchen Backsplashes*
Contemporary Cabinetry*
Wired for Intrusion Alarms
Renovated Apartments Homes*
Stainless Steel or Black Appliances*
Full Sized Washer and Dryer Connections
USB Outlets in Living Room and Bedrooms*
Exclusive High-Speed Internet and Cable Amenity
*In Select Homes
Application Fee: Contact for details
Cottonwood Renovated
3 bed
2 bath
1405 sqft
$2,348
Floorplan: Cottonwood Renovated
Application Fee: Contact for details
Property Description
Why Live Here?
Welcome home to The Arbors of Las Colinas! We offer spacious one, two and three bedroom apartment homes. We have a newly renovated fitness center, sparkling resort style pool with cabanas, and an exclusive pet park with agility course. Our interiors feature vaulted ceilings, private patio or balcony, and easy access to three major highways.
Amenities
Clothes Care Center
Resident Clubhouse
Relaxing Spa/Hot Tub
Curbside Trash Pickup
Two Resort-Style Pools
Two Recycling Centers
Online Payments Available
Professionally Landscaped
Freshly Repainted Buildings
Exclusive Pet Park with Track
Upgraded Pool Cabanas and Seating
Free WiFi Access in Clubhouse and Poolside
New Expanded and Renovated Fitness Center
Walking Distance to Restaurants, Retail, and Grocery Shopping
Pet Policy
Pets Allowed: Cat, Dog
Max Number of Pets: 2
Max Weight of Pets: N/A
Pet Care: Not Available
Pets Deposit Min/Max: $0
Pet Monthly Rent Min/Max: $0
One Time Fee: $0
Please call our Leasing Office for complete Pet Policy information.
Building Information
Units: 408
Lease Terms
9,10,11,12,13
Loading Properties