University of North Carolina at Chapel Hill

Off Campus Apartments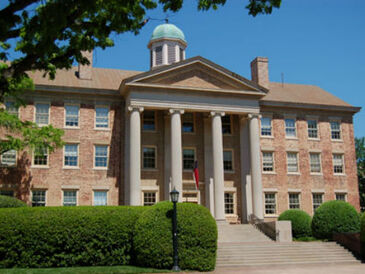 Photo Credit
Ready for an Apartment near UNC?
Welcome To The University Of North Carolina
Located in the beautiful North Carolina haven of Chapel Hill, The University of North Carolina or just simply 'UNC' is known for being one of the best schools in the country across a broad spectrum of academics, sports and state-of-the-art research. It also lays claim to being the first public university in the United States, established 1789. But just to clarify...this is a system of campuses in the state, and in conversation you would want to specify...UNC at Chapel Hill, because there are many others nearby. UNC Chapel Hill give all its students a broad liberal arts education an is a part of the so-called 'Research Triangle' with places like prestigious Duke University. UNC's mascot is Rameses, which is basically a horned sheep, the team is the Tar Heels, and the school colors are 'Carolina' blue, and white. They are serious about athletics here!
Finding Housing In & Around Chapel Hill
Okay, here's the situation: you should get a good jump on your search for apartments if you're serous about living off-campus, and use our nifty apartment guide! According to the stats, about 45% of undergrads live on the actual campus. So it's a real choice of lifestyle, maybe you want the campus community atmosphere or maybe you want a little cosmopolitan flavor with more private space, and that feeling of freedom...you can get a feel for what the overall college life at UNC is like by using our other equally-nifty college life link! Anyway, what we have to show you are a variety of properties: some are your run-of-the-mill quant apartment in a complex; others are more like little houses. Prices vary. You may find yourself in the nearby town of Durham, however most of the properties are quite centrally located.
Average Apartment Rent in Chapel Hill
| # Bedrooms | Aug | Jul | Jun | 3 Month % change |
| --- | --- | --- | --- | --- |
| Studio | N/A | N/A | N/A | 0% |
| 1 Bed | N/A | N/A | N/A | 0% |
| 2 Bed | N/A | N/A | N/A | 0% |
| 3 Bed | N/A | N/A | N/A | 0% |
Map & Local Information
Local Talk
Get answers about Chapel Hill from local experts or tell us what you love about it.
What kinds of outdoor activities are either in or around Chapel Hill?

With over 14,000 acres of water, Jordan Lake provides many outdoor activities to those residing in the Chapel Hill area. The lake offers boating, fishing, and swimming while its shores offer camping and hiking. The NC Division of Parks and Recreation operates nine recreation areas on the lake: Crosswinds Campground, Ebenezer Church, Parker's Creek, Poplar Point, Seaforth, Vista Point, Robeson Creek, New Hope Overlook, and White Oak Recreation Area. With multiple courses in the area, golf is also a popular pastime in Chapel Hill.

Does Chapel Hill have a good school system?

Yes, Chapel Hill has an excellent school system. Public education in the area is primarily provided by the Chapel Hill-Carrboro School District. With 18 schools serving over 11,000 students, this district was rated better than 100.00 percent of school districts in North Carolina and 84.0 percent of school districts in the country. As far as higher education is concerned, Chapel Hill is also home to the University of North Carolina at Chapel Hill.

How much are utilities in Chapel Hill?

Chapel Hill's climate features hot summers and cold winters, meaning that utilities will fluctuate from season to season. Gas may be as high as $100 a month during the winter and maybe as low as $20 in the summer. Electricity, on the other hand, will cost as low as $60 in summer up to $150 in winter. Town-provided utilities will cost another $30 on top of gas and electric. On average, all utilities should amount to about $200 a month.