University of Illinois at Chicago

Off Campus Apartments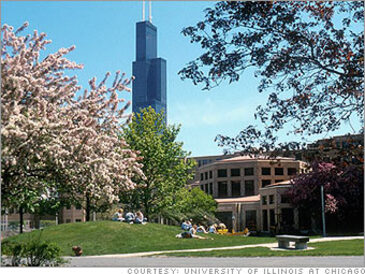 Photo Credit
Ready for an Apartment near UIC?
The Muppet Movie just came out and it took me right back to my childhood love for the characters of Dr. Bunsen Honeydew and Beaker. What most people don't know about these zany scientists is that they studied at the University of Illinois in Chicago. They also roomed together in an off-campus apartment next door to Ernie, his rubber ducky, and Bert.
Researching UIC
It is no surprise that Bunsen and Beaker chose UIC over any other school, since its main focus is on research. Whether your interest is scientific, cultural, political, or technological, professors at UIC will challenge you and help expand your thinking. It is really saying something when you realize that even Bunsen and Beaker don't feel like nerds around their peers here. This is because the discoveries that result from experiments and research done by students and professors at UIC impact the world. Basically, students here are a worthy opponent for the powerful (collective) mind of Bunsen and Beaker, and the puppeteer that mans them. While there might be competition to get published, there is no need to compete for an off campus apartment since options are plentiful.
Rubber Ducky You're the One …
…You make renting apartments lots of fun! This is the song Ernie sang to his rubber ducky in the bathtub of his newly rented apartment. Why is he so chipper? Because renting turned out to be easier than researching the latest nanotechnology. There are several apartment buildings surrounding campus that are student-friendly. University Village is just one example of an area that is close to campus and packed with students. For cheaper living, consider venturing into areas a little further from campus. apartment search guides is a great resource for exploring options around town. No matter what neighborhood you end up in, you can rest assured that getting to campus will be no problemo. This is because UIC provides students with a U-Pass, which affords you free access to any CTA bus or train. The puppeteer controlling your body isn't eligible for a U-pass, unfortunately.
Muppets Take Chicago
Besides all the studying and living you'll be doing around campus, you will be experiencing a city like no other. Chicago has everything you want and more. In places like Belmont or Lincoln Square, you will find artsy and funky shops and people, but just a bus ride away is Wrigleyville or the ESPN Zone, where you can settle down with the local sports fans and sip a beer. Speaking of beer, the nightlife in Chicago is the best. Although underage puppets might not be able to dive into Hungry Brain at 2319 W Belmont Ave for a drinking game, they can soak up some culture at The Field Museum, where admission is free on the second Monday of each month!
Average Apartment Rent in Chicago
| # Bedrooms | Aug | Jul | Jun | 3 Month % change |
| --- | --- | --- | --- | --- |
| Studio | $1,017 | $1,094 | $1,012 | 0.5% |
| 1 Bed | $2,153 | $2,114 | $2,032 | 6% |
| 2 Bed | $2,023 | $2,100 | $2,052 | -1.4% |
| 3 Bed | $2,270 | $2,248 | $2,235 | 1.6% |
Map & Local Information
Local Talk
Get answers about Chicago from local experts or tell us what you love about it.