San Francisco State University

Off Campus Apartments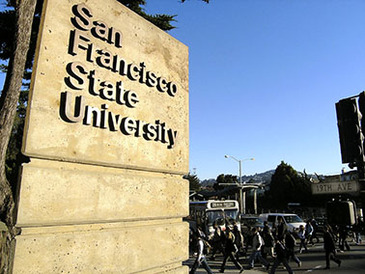 Photo Credit
Ready for an Apartment near SFSU?
San Francisco State University
San Franscisco State University is an average sized university, offering one of the country's largest ranges of different degrees programs. There are 117 areas of study for undergraduates, 96 for masters and 34 certificate programs.
This wonderfully diverse city is a place where you can go from museums to mountains, from nightclubs to quiet night time walks. The city is the fourth most populous in California, and while it is completely different to New York in the opposite corner of the country, it is no less a cultural center.
Strolling around San Fran
The area of San Francisco immediately surrounding SFSU is considered quite walkable, with a score of 75 out of 100. You have limited choice in most amenities within a short quarter mile walk, and whatever you can't reach on foot (it is a very hilly city!) is served by public transit. The Municipal Railway operates streetcars, a metro, buses and cable cars, and there are also regional trains services with BART for the Bay area and Caltrain to San Jose.
Left Coast Living - San Fran Neighborhoods
If you're looking for a neighborhood close to school for your apartment rental, Ingleside Heights, Merced Heights and Saint Francis Wood are some of the neighborhoods immediately surrounding SFSU. Saint Francis Wood will be out of the reach of many students (unless you're a Hollywood actor by day!) - Ingleside Heights and Merced Heights are more affordable and not too population-dense.
There are plenty of events in these neighborhoods in San Francisco, including the Spectrum Festival for party people, film festivals, folk festivals and outdoor concerts.
Apartments in Short Supply
San Francisco is a large city, however with few apartments in close proximity to your school. A car will extend your housing and rental options greatly, especially considering that the cheapest apartments in the same postcode as SFSU start at $900 per month!
San Fran City Life - Eating and Drinking
We mentioned that San Francisco is a US center of culture - and two of the things that help truly define culture are dining and nightlife. For better nightlife diversity, you'll want to head northeast into the center of San Francisco, but for a quick drink and a relaxing hour after school try The Dubliner or The Pub and Depot. Ambrosia Bakery and Nordstrom Café offer you delectable dining right near school, and a welcome change from boiled noodles!
Average Apartment Rent in San Francisco
| # Bedrooms | Aug | Jul | Jun | 3 Month % change |
| --- | --- | --- | --- | --- |
| Studio | $2,864 | $2,877 | $3,238 | -11.6% |
| 1 Bed | $3,257 | $3,413 | $3,411 | -4.5% |
| 2 Bed | $2,173 | $2,191 | $2,016 | 7.8% |
| 3 Bed | $977 | $936 | $1,020 | -4.2% |

San Francisco, California, 94132
Studio/1 Bedroom$1,989 - $2,559
2 Bedrooms$2,800 - $3,038
San Francisco, California, 94132
Studio/1 Bedroom
2 Bedrooms
3 Bedrooms
San Francisco, California, 94132
3 Bedrooms
San Francisco, California, 94132
1 Bedroom
San Francisco, California, 94132
3 Bedrooms
Map & Local Information
Local Talk
Get answers about San Francisco from local experts or tell us what you love about it.