Purdue University

Off Campus Apartments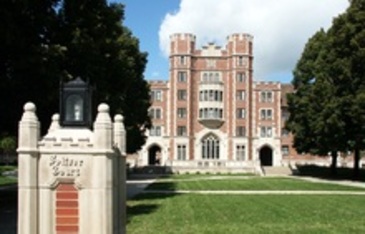 Photo Credit
Ready for an Apartment near PU?
Purdue University is a large public university in West Lafayette, Indiana, famous for its Big Ten Conference athletics and outstanding program in aerospace studies. In fact, 22 astronauts graduated from Purdue! PU is the flagship university of the Purdue University system with campuses throughout Indiana. There are over 200 areas of study, so don't freak out if you don't know yet what your major will be; you're sure to find many other Boilers in the same boat.
Off, but Close to Campus
At PU, there is a strong campus community, but 60% of students still choose to live off campus. There's a whole range of rental options available around the school, from townhomes to single family houses to apartment communities. Typically, these places are roomy enough for 1-4 roommates. Fortunately for you, property managers have been buying and renovating houses throughout the city, so chances are that your rental home will be fully remodeled. Given Purdue's large size, you should plan to start your rental search as early as possible. Check out our blog to read more on apartment life.
The great thing about living off campus at Purdue is the reliable bus system. Students have raved about the convenience of the buses around campus—they're everywhere and come every few minutes. To top it off, you get a free bus pass just for being a registered PU student. Always remember to bring your PUID's when you're leaving the apartment.
Life in West-Lafayette
Outside of Purdue is the quiet city of West-Lafayette, which is pretty much a college town. Students who choose to live in off-campus rental homes and apartments really blend well with the local community. Take a walking break through town or a stroll in the park; it's safe enough to do at night when you can't fall asleep. As far as nighttime activities go, there's a large selection of fine restaurants and bars to hang out in with your friends. One of the most popular ones is Harry's Chocolate Club, which is right on the edge of campus.
Notable Alumnus: Neil Armstrong
Average Apartment Rent in Lafayette
| # Bedrooms | Aug | Jul | Jun | 3 Month % change |
| --- | --- | --- | --- | --- |
| Studio | $395 | $395 | $395 | 0% |
| 1 Bed | $505 | $505 | $505 | 0% |
| 2 Bed | $713 | $713 | $707 | 0.8% |
| 3 Bed | $829 | $829 | $829 | 0% |
Map & Local Information
Local Talk
Get answers about Lafayette from local experts or tell us what you love about it.
Is Lafayette a good place for families?

Based on safety and quality of education, Lafayette is not a very good place for families. With a crime index of 9 out of 100, Lafayette's crime rate is quite a bit higher than average. Still, there are some safe neighborhoods in town, including the areas on the outskirts of the city farthest from the city center. Lafayette students are primarily served by Lafayette School Corporation School District, which has been rated as better than only 5.1 percent of school districts in Indiana and 22.8 percent of school districts in the country. Tippecanoe School Corp School District, which also serves Lafayette students, has received much more favorable reviews.

Are there museums in Lafayette or nearby?

Yes, Lafayette is home to a few museums. The Art Museum of Greater Lafayette, for example, has a collection of more than 870 works of American art, with a focus on Indiana artists. On campus, the Purdue University Galleries specialize in high-quality visual art exhibitions and programming to enhance the educational mission of the University. Lafayette is also home to the Imagination Station is a science, space, and technology center for children, and the Columbian Park Zoo.

Is Lafayette a family friendly town?

Lafayette is not a very family-friendly town. To begin, it has a very high crime rate; in fact, Lafayette is one of the top 100 most dangerous cities in the United States, which never bodes well for families with young children. As far as education is concerned, Lafayette's schools are good relative to other districts in the state. However, since Louisiana's schools are ranked rather low when compared to other states, those same schools rank in the bottom 25 percent percentile on a national level.