Loyola Marymount University

Off Campus Apartments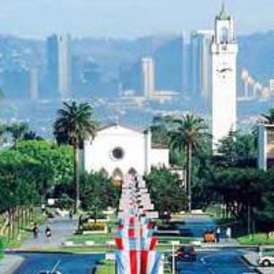 Photo Credit
Ready for an Apartment near LMU?
Picture this: You are sitting at a café, sipping on a virgin piña colada, and watching the sunset over the ocean. You breathe deep and realize you are in the prime of your life and living in paradise. After some time contemplating your blessed soul, you look down at your table and decide that it is time to start your ten page paper that is due 8 p.m. for your Anthropology class at Loyola Marymount. It's hard to be stressed in paradise.
Palm Trees and Books
Attending a college that is right by the beach might be therapeutic, but it certainly does not totally alleviate the stress students feel when faced with the rigorous academic programs at LMU. The small size of the school means smaller classes, so professors tend to know when students are not on top of their game. The upside? Professors are very approachable, know students on an individual level, and are invested in the success of the people in their classes. Loyola Marymount is known for its location and academics, but also for the beautiful and well-kept facilities that students can enjoy. Athletic folk will enjoy watching the women's volleyball and basketball team, and maybe even participating in some IM Ultimate Frisbee games themselves. With all the sunshine and beauty of the school, it is hard to be unhappy—unless you are homeless, that is. Luckily off campus housing is available!
An Apartment Getaway
It is a necessity for most students to live off campus at some point in their experience at LMU, due to limited on campus housing. Students flock to areas like Marina del Rey and Playa del Rey. These areas are filled to the brim with affordable apartment complexes, but don't waste time getting your hands on a room because they can go fast. Our apartment guide will direct you to areas and apartments that fit you best. Once you get one of these apartments, you will begin to realize the true majesty that is Los Angeles. True, a car is often required to do most activities, but the university's Lion Express shuttle or the Santa Monica Big Blue Bus are also available means of transportation that students can enjoy. Once students learn to navigate their surroundings, they will soon become aware that Los Angeles is one big playground.
Git It Gurl
Los Angeles has much to offer. In areas like Sunset strip, Hollywood, and Silverlake bars, clubs, and music venues are at every turn. Neighborhoods have drastically different cultures, so there really is something for everyone. The gay scene in LA is almost comparable to San Francisco's with areas like West Hollywood and clubs like Akbar at 4356 West Sunset Blvd, The Abby and TigerHeat. To see your favorite musicians check out venues like The Roxy, The Smell, The Echo, and Amoeba. For youngins under 21, party hard around campus, throw a bonfire at the beach, or take advantage of your new apartment and invite everyone over for a shindig. Hopefully your landlord won't call the cops… Students who go to Loyola Marymount rave about its academics and location. You will truly find yourself in a
Average Apartment Rent in Los Angeles
| # Bedrooms | Aug | Jul | Jun | 3 Month % change |
| --- | --- | --- | --- | --- |
| Studio | $1,758 | $1,743 | $1,771 | -0.7% |
| 1 Bed | $2,370 | $2,235 | $2,247 | 5.5% |
| 2 Bed | $2,498 | $2,535 | $2,524 | -1% |
| 3 Bed | $1,867 | $2,316 | $1,971 | -5.3% |

Los Angeles, California, 90045
1 Bedroom$1,875 - $1,910
2 Bedrooms$2,485 - $2,815
3 Bedrooms$2,960 - $3,770
Los Angeles, California, 90045
1 Bedroom
2 Bedrooms
Los Angeles, California, 90045
1 Bedroom
2 Bedrooms
Los Angeles, California, 90045
Studio/1 Bedroom
2 Bedrooms
Los Angeles, California, 90045
Studio/1 Bedroom
2 Bedrooms
3 Bedrooms
Map & Local Information
Local Talk
Get answers about Los Angeles from local experts or tell us what you love about it.