Ithaca College

Off Campus Apartments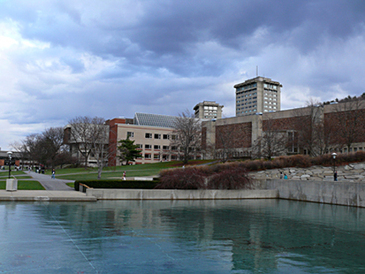 Photo Credit
Ready for an Apartment near IC?
"A first-rate education on a first-name basis"
Ithaca College is the kind of place where you run into your professor at the coffee shop. From IC's annual Habidash race for Habitat for Humanity, to its Food for Thought campaign that benefits malnourished children, to its Service Saturdays community volunteer program, IC is all about community care. It has an impressive faculty to student ratio of 1 to 12. With domestic and international satellite locations as well as student run television and radio stations, magazines, and newspapers, Ithaca College offers students a plethora of ways to get involved. As if that weren't enough, it has partnerships with Wells College and Cornell.
Ithaca is Gorges
If you are an IC student, you are probably over seeing this tagline on t-shirts, but you have to admit that it's true. Ithaca is stunning, not only in its gorges but right down to its houses, many of which have a personalities as unique as your crazy Aunt Polly's. A popular housing option for many IC students is renting out an entire house with a group of friends. However, one-room rentals are also plentiful. If you're not into quirky old places, there are plenty of more modern accommodations listed on this site—you know, ones where you're less likely to have to do your own plumbing, or worry about whether the attic is haunted. Check areas near the Commons. Gettin' 'round Ithaca is made simple by Tompkins Consolidated Area Transit, though buses can be late and are notoriously slow. However, the good news for those of you on a budget is that students get discount bus passes. Many Ithaca College students have cars so sidle up to a schoolmate with wheels your first week of class. It will come in handy.
Cayuga Will Like Ya
If you're headed to Ithaca, you must check out Cayuga Lake, the longest of New York's Finger Lakes. It is popular among boaters and is also the source of drinking water for many surrounding communities. Or fish for bargains at one of Ithaca's many used book stores then hole up in your favorite quaint coffeeshop. Get a little fresh air and head for a stroll down the Ithaca Commons, a pedestrian mall full of restaurants, stores, and entertainment. Get friendly with the Cornell kids on a trip to Collegetown, next to the Cornell campus. There are lots of places to eat and shop in Collegetown, such as CollegeTown Bagels, a staple for many Ithaca College and Cornell students. And in addition to the college-party vibe, Ithaca is full of adult fun. Party like a grown-up and hit the Finger Lakes Wine Trail.
Average Apartment Rent in Ithaca
| # Bedrooms | Jun | May | Apr | 3 Month % change |
| --- | --- | --- | --- | --- |
| Studio | N/A | N/A | N/A | 0% |
| 1 Bed | $797 | $797 | $779 | 2.3% |
| 2 Bed | N/A | N/A | N/A | 0% |
| 3 Bed | N/A | N/A | N/A | 0% |

Ithaca, New York, 14850
1 Bedroom$750
2 Bedrooms$772 - $875
3 Bedrooms$518 - $1,000
Ithaca, New York, 14850
1 Bedroom
2 Bedrooms
3 Bedrooms
Ithaca, New York, 14850
1 Bedroom
2 Bedrooms
3 Bedrooms
Ithaca, New York, 14850
1 Bedroom
2 Bedrooms
3 Bedrooms
Ithaca, New York, 14850
1 Bedroom
2 Bedrooms
Map & Local Information
Local Talk
Get answers about Ithaca from local experts or tell us what you love about it.
What's the weather like in Ithaca?

Ithaca experiences cold, snowy winters and hot, humid summers. The average high in July, the hottest month, is 80 degrees Fahrenheit. The average low in January, the coldest month, is 14 degrees Fahrenheit. Average annual precipitation amounts to 37 inches of rainfall and 68 inches of snowfall. Mixed precipitation--consisting of rain, wind, and snow--occurs often in the late fall and early spring.

Where are some of the best places for dining out in Ithaca?

Home to two institutions of higher learning, Cornell University and Ithaca College, there are many good places for dining out in Ithaca, and . The areas with the highest concentration of restaurants are in Downtown and Collegetown. Downtown and The Commons has the most variety, ranging from Pizza, Chinese, Japanese, Korean, and Indian to fine-dining establishments. If you are uncertain about what you want to eat, a stroll along downtown's "Restaurant Row" on North Aurora Street should provide almost anything one is looking for. Collegetown also has a wide selection of dining, but has fewer fine dining options. Also notable is the area to the west of Downtown known as the West End, or The Inlet. Elmira Road, south of the downtown and Pyramid Mall, north of Ithaca in the Town of Lansing, have a selection of fast food and chain restaurants.

I'm relocating. What's the weather like in Ithaca?

Mild summers and very cold, snowy winters mark the extremes of Ithaca's four-season climate. Summer temperatures tend to be in the 60s and generally cap out at 80 degrees Fahrenheit. Winter temperatures, which tend to be in the 20s, don't often go below 80. Ithaca receives about 36 inches of precipitation a year, which falls pretty evenly over the months. June, however, is often the wettest.