Columbia University

Off Campus Apartments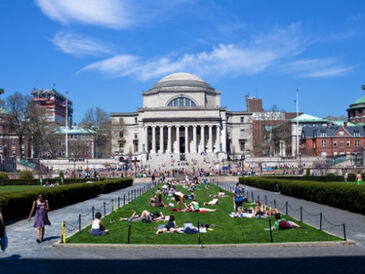 Photo Credit
Ready for an Apartment near CUN?
Overview: You're Going To Columbia!?
Woohoo! Wow. I could fill-up this whole page with the names of amazing people who have gone to this school. It's the school where writer Jack Kerouac played football, and where they filmed the final showdown in Ghostbusters. I guess people take classes there too or something. Located in the neighborhood of Morningside Heights in Upper Manhattan with a sprawling scenic campus, Columbia University is the oldest such school in the state of New York and part of the Ivy League. Barack Obama is among the three United States Presidents who have also gone to Columbia University. Academically, you will do well to study anything there: Law, Science & Technology, Literature, The Arts, Architecture, International Affairs, Foreign Languages, Engineering, Medicine, Social Work, The Union Theological Seminary, you name it: anything!
Housing Situation In & Around The Columbia Campus
You just never know when it comes to apartment rentals in New York. You may find bargains on the nearby shores of New Jersey or anywhere throughout Manhattan, for that matter, if you look hard enough. The majority of students choose to live on campus, but for those freethinkers out there, start your apartment hunt with our apartment guide. You'll notice that there are some luxury condo-like spaces available, spread around mostly either in New Jersey or West Midtown Manhattan. Prices vary. You could live anywhere in the five boroughs and be fine, really, given how reliable the transportation is in NYC (sometimes there are hiccups but generally the bus/subway/etc. will get you there). Check out our blog for more about college life in general.
Finding Your Way Through College And The City
Columbia owns real estate all over the city. The main campus stretches for many blocks from 110th Street all the way to 122nd, between Riverside and Morningside Parks. There is a subway station right outside the campus gates, while the bus is an equally convenient option if you want to stay above ground, and there are always taxis, too, if you really want to splurge. Manhattan has nearly every activity, short of mountain climbing, that you can imagine. But if you find yourself totally transfixed by the campus for your first few weeks/months/years...maybe you'd be interested to learn about the spooky side of Columbia? Well, not many people know about the network of underground tunnels that link the different old campus buildings. Some of them are safe to explore; others have been shut off. Discover for yourself this unique aspect of the college's history! Still feeling the spooky history vibe? You also might want to pay a visit to Grant's Tomb in scenic Riverside Park.
Average Apartment Rent in New York
| # Bedrooms | Apr | Mar | Feb | 3 Month % change |
| --- | --- | --- | --- | --- |
| Studio | $2,903 | $2,853 | $2,885 | 0.6% |
| 1 Bed | $3,822 | $3,746 | $3,768 | 1.4% |
| 2 Bed | $5,587 | $5,797 | $5,773 | -3.2% |
| 3 Bed | $6,347 | $7,754 | $7,865 | -19.3% |

New York, New York, 10027
1 BedroomPlease Call
2 BedroomsPlease Call
3 BedroomsPlease Call
New York, New York, 10028
1 Bedroom$3,142 - $3,913
2 Bedrooms$4,744 - $5,466
New York, New York, 10023
Studio/1 Bedroom$2,675 - $4,166
2 Bedrooms$5,218 - $7,828
New York, New York, 10069
Studio/1 Bedroom$2,840 - $4,035
2 Bedrooms$5,830 - $7,320
New York, New York, 10069
Studio/1 Bedroom$2,975 - $4,380
2 Bedrooms$5,415 - $6,990
3 BedroomsPlease Call
Map & Local Information
Local Talk
Get answers about New York from local experts or tell us what you love about it.