California State University, Long Beach

Off Campus Apartments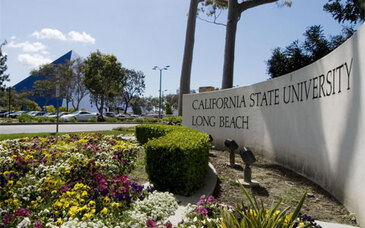 Photo Credit
Ready for an Apartment near CSULB?
California State University, Long Beach
With perhaps one of the most enticing nicknames of any university, California State University at Long Beach is also known as The Beach, and is consistenyl recognized as one of America's Best Value colleges by The Princeton Review. The Beach has a large and diverse student body of almost 40,000 souls.
Tourist Mecca Without the Tourists
Fortunately for those about to move to Long Beach, it is centrally located to just about all the traditional tourism spots in California, without being overrun by tourists. The area is focused more on industry and residential than tourism activities.
Walk ... But Not Too Far
The area around Cal State Long Beach is quite walkable, scoring 80 out of 100. At school, you're right on top of some great coffee shops, parks and fitness centers, and located close to grocery stores and restaurants also. However, once you get past the initial surrounds Cal State Long Beach is quite close to industrial parks and an army base, so unless you plan to spend your life at school you may want transport!
Neighborhoods Around The Beach
Bixby Knolls is one of the neighborhoods closest to college, and Signal Hill as well as Belmont Heights also offer diverse housing options for students. Belmont Heights is busier, and also has a higher average income. And you know what that does to apartment prices! Bixby Knolls neighborhood is both closer, cheaper and less busy.
Apartments and Housing in Long Beach
Typically of California, apartments and rentals start at quite high prices in Long Beach. Your housing budget will need to be at least $700 for an apartment, and prices climb quite rapidly to around $900 per month.
Sunny California's Dining and Nightlife in Long Beach
California is home to America's second largest city - but it seems that not much of the LA nightlife scene slips over into Long Beach. If you're looking for true diversity on the weekends, you might head into LA. Everyday nightlife in Long Beach is a little more subdues, with the most highly recommended venues places like Viento y Agua Coffee House and Gallery, Joe Jost's Dive Bar and Sandwiches.
You'll never go hungry at CSULB though, with a great selection of dining venues on each corner of the college block. The Nugget Grill and Pub, The Beach Walk Café, Rascals Teriyaki Grill and Pizzamania are always filled with students during term time.
Average Apartment Rent in Long Beach
| # Bedrooms | Jun | May | Apr | 3 Month % change |
| --- | --- | --- | --- | --- |
| Studio | $1,385 | $1,348 | $1,345 | 3% |
| 1 Bed | $1,522 | $1,319 | $1,527 | -0.3% |
| 2 Bed | $2,434 | $2,363 | $2,194 | 10.9% |
| 3 Bed | $1,394 | N/A | $1,771 | -21.3% |
Long Beach, California, 90803
3+ Bedrooms
Long Beach, California, 90803
Studio/1 Bedroom$1,250
Long Beach, California, 90803
1 Bedroom
Long Beach, California, 90803
2 Bedrooms
Long Beach, California, 90803
Studio/1 Bedroom
Map & Local Information
Local Talk
Get answers about Long Beach from local experts or tell us what you love about it.