Cal Poly Pomona

Off Campus Apartments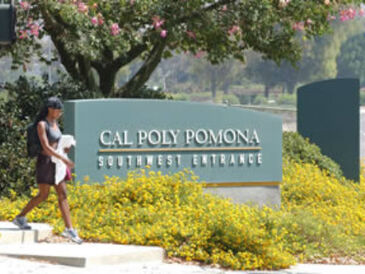 Photo Credit
Ready for an Apartment near CSUPP?
Take out your pom poms and do a cheer for renting off-campus apartments in Pomona, while attending California State Polytechnic!
Pom Poms
Pomona= Own a Pom….get it? Pom poms? Wah wah wah, sorry. Why cheer for Cal Poly Pomona? 1) It is on the quarter system. The quarter system is a great way for students to experience a wide variety of areas of study, classes, and professors. In just ten weeks, students will get more than just an overview of a course. They will receive so much detailed information that they will be saying have mercy! 2) With most every class at CPP comes lab or studio time, allowing students to take a hands-on approach to their learning, and helping them graduate with practical skills. 3) Class sizes at Cal Poly Pomona are relatively small compared to other schools', so students are awarded an opportunity to really get to know their professors and take an active role in their classes.
(Pom) Own a(n) Apartment
Own an apartment in Pomona. Well, own your rented space, anyway. It's easy. 91% of Cal Poly students live off campus, and the town is well equipped to accommodate all of them. For ideas on how to start looking, check out our apartment search guides! Once you have an apartment, you will begin to appreciate what an awesome location you live in. Being in Pomona, you will be surrounded by the Claremont Colleges, so college-aged people are swarming the place. Well, maybe not swarming, but gathering at least. Though Pomona itself is a bit suburbanized, it is just a drive away from Los Angeles, Huntington Beach, Orange County, Disneyland and San Diego! That being said, having a car in Pomona is a real advantage for getting out of town. In town, however, students can use the Foothill Transit to get to class and their apartments!
Ponighta
What happens in Pomona at night? First off, its name changes to Ponighta. There is plenty to do in Downtown Ponighta. Second Street is a particularly happening area and students love to see a cool show at the The Glass House and then head next door to Acerogami at 228 W 2nd St. to grab a drink with friends. Places surrounding Pomona, like Downtown Fullerton or Huntington Beach, are also fun to hang out in at night. Don't forget LA is also just a drive away, and has a ton of activities and a happening nightlife!
Average Apartment Rent in Pomona
| # Bedrooms | Aug | Apr | Mar | 3 Month % change |
| --- | --- | --- | --- | --- |
| Studio | N/A | N/A | N/A | 0% |
| 1 Bed | N/A | N/A | N/A | 0% |
| 2 Bed | N/A | N/A | N/A | 0% |
| 3 Bed | N/A | N/A | N/A | 0% |
Pomona, California, 91768
2 Bedrooms
Pomona, California, 91768
3 Bedrooms
Pomona, California, 91768
3 Bedrooms
Pomona, California, 91768
1 Bedroom
Pomona, California, 91768
1 Bedroom$999
Map & Local Information
Local Talk
Get answers about Pomona from local experts or tell us what you love about it.